A thin thread, a common energy, all this managed to create a unique synergy between people living far away, with a common passion for art.

On the thread of imagination we worked around an idea that gradually wove a workshop, starting from the symbolism of the thread, as bond, texture, structuring element of warp and weft, and image of our own existence.

With the thread we can create works through the silent dialogue of hands knotting, intertwining, embroidering and, step by step, building a new choral fabric, an image of shared emotions, relational skin, in which each participant is reflected: common destinies knotted together. 


ON THE THREAD OF FEELINGS
IN-DEEP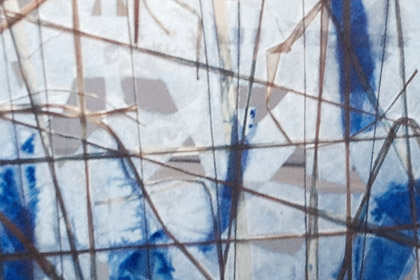 The workshop
A workshop for all children, boys and teachers of the school, modelled on the timing and pace of the people who live there, where people can find new resources in a creative unique, and free up dormant potential.
The therapeutic context comes up by doing together, to find a common rhythm and breathe for the whole group.
With threads of different thickness and colour we can "paint" patterns of signs on large formats, cast nets and translucent fabrics, embroider delicate landscapes of the soul, playing with light and shadow given by crossing light. We can imagine stories, communicating through the language of art, the image, which needs no translation, interpretations, but unites distant people.
Each workshop step, thanks to video and photographic documentation, will provide the foundation with a great story, with shared emotions in the art video and in the works that will be represented in a final exhibition, another opportunity to weave relationships and other experiences with a wider audience.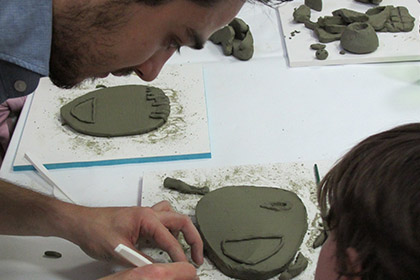 Davide Pala - Educator and artist therapist
Student and trainee at the second level Degree Theory and Practice of Therapeutic Art
He graduated in 2010 at the Faculty of Humanities of Sassari in Education and Training, with a research thesis in Psychology.
Starting from 2011 he has been working as artist therapist in Milan in various facilities such as the Hospital Fatebenefratelli, Cascina Rossago, CPA of Sesto San Giovanni, Hospital of Vimercate and Ala Milano Onlus.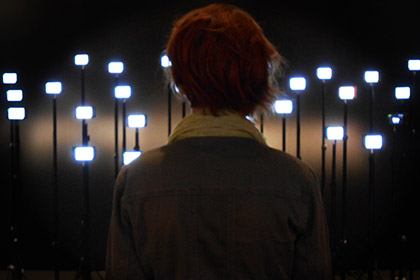 Chiara Amendola Educator and artist therapist
Student and trainee at the second level Degree Theory and Practice of Therapeutic Art
Chiara Amendola was born in Milan. She got a Degree in Art and Multimedia communication and in 2008 she got the Master Degree in therapeutic art. She worked for several years as coordinator of artistic activities in the field of disability and learning support preferring the use of new technologies such as digital photography, video, computer graphics and computer game. For some years she works and lives in Berlin where she worked with some reality within the therapeutic artistic and bilingual education. Now, through INTERMEDIALAB she organizes and promotes projects related to the creative use of new media and critical in schools, hospitals and workshops in associations and cultural centres. She proposes projects for participation in tenders and the European Union leads the project
LYS.LUCE
, thesis research specialist in the Master of Theory and Practice of Therapeutic Art Academy of Fine Arts of Brera in Milan. With her practical and theoretical research has presented at several international festivals of electronic art.
www.chiaraamendola.net