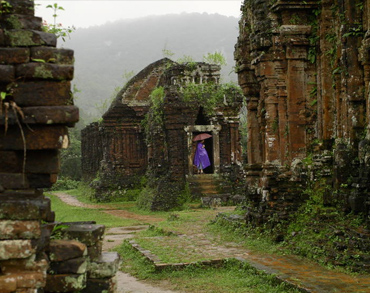 UNESCO WHL

In 1999, the My Son Sanctuary was inscribed in the World Heritage List, under Criterion (ii) and Criterion (iii).

Criterion (ii): The My Son Sanctuary is an exceptional example of cultural interchange, with an indigenous society adapting to external cultural influences, notably the Hindu art and architecture of the Indian sub-continent.

Criterion (iii): The Champa Kingdom was an important phenomenon in the political and cultural history of South – East Asia, vividly illustrated by the ruins of My Son.
DRAWINGS

My Son was discovered by Henri Parmentier of the Archaeological Service of the Ecole Francaise d'Extreme Orient in 1898, who also directed numerous research and restoration campaigns in the area.

Caractères Généraux de l'Architecture Chame', BEFEO, 1901, pp. 245-258
Les monuments du cirque de My Son, BEFEO, 1904, pp. 805-890
Rapport sur la création d'un musée Cham, BCAI, 1908, pp. 89-94
Inventaire Descriptif des Monuments Cams de l'Annam, Tome I – Description des Monuments, Paris, Leroux, 1909
Inventaire Descriptif des Monuments Cams de l'Annam, Tome II – L'étude de l'art Cam, Paris, Leroux, 1918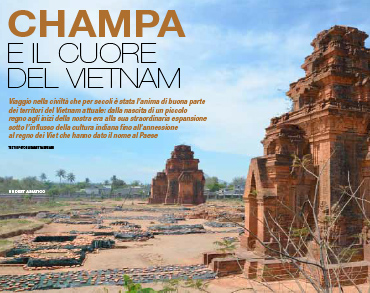 BIBLIOGRAPHY

Archeologia Viva
N. 169-2015 (Gennaio-Febbraio)
Elisabetta Susani, Champa e il cuore del Vietnam

M. Boriani, S. Premoli, EWCE Archaeosites. A sustainible project at My Son sanctuary in Viet Nam. The East West Economic Corridor Archaeological Sites. A Challenge for Development Based on Cultural Heritage. Cuneo, Araba fenice, 2012

A. Hardy, M. Cucarzi, P. Zolese, Champa and the Archaeology of My So'n (Vietnam), Singapore, NUS Press, 2009

Association Francaise des Amis de l'Orient, Le Musée de Sculpture Cam de Da Nang, Paris, AFAO, 1997

E. Aymonier, Légendes historiques des chames, Excursions et Reconnaissances BEFEO, XIV n. 32, pp. 145-206, 1890
EVENTS

Tourisma 2015
XI Incontro Nazionale di Archeologia Viva
Elisabetta Susani, Ritorno al Vietnam: l'apertura al turismo e la rinascita del patrimonio culturale